When I first heard of Spike's controversial new "monster mash" , I admit I was a little peeved.
" How dare they take up a slot for a historical matchup for this...garbage
!" I thought "
These guys aren't even warriors, they are just monsters who hunt humans for consumption purposes. Why the hell would they trade having the hussars on the show for these creatures of fantasy
?" I can not emphasize enough how disappointed I was in this episode, especially given how lackluster the rest of the episodes for this season are.
Yet as I watch the trailers for this episode I can't help but feel some excitement for this match. Not because it is historically accurate-indeed I have come to realize that true historical accuracy may never come on the show(and even if it were achievable, they would remove the fun from the show; which they don't need to do) - but because it looks so insanely zany that I am actually excited to watch it. Maybe its because they so butchered every episode they have done thus far (ask and I will give specific examples) that I feel that this episode is going to be one of, if not the best of the season. I don't have a favorite, I am not looking for accuracy here, just good old fashioned fun, and I really don't see how they can mess this episode up.
I know the other Deadliest Warrior bloggers don't exactly feel the same about the episode, but as things are thats the way I see it. I still have some hope for the rest of the season (particularly Gurkha vs. FFL, Genghis vs. Hannibal and Ivan vs. Cortez) but that said hope flickers when I see complete obvious bias like I did the last two episodes (did anyone mention that Joan never killed?).
A horror icon for countless decades
Many bloggers have gotten into a habit of doing rematches of DW episodes either because they disagreed with the outcome or didn't feel that the outcome was reached through historical accuracy. For the first time ever I will attempt to do the same with a matchup that has not been done before nor do I expect any other DW blogger to do: Vampires vs. Zombies.
Yes I am aware that this match-up has not been aired yet, as that was my intent in making this match-up. I want to do this fight before the real episode airs, in my own way, and then compare my results to the shows and let others decide whether mine or theirs is more accurate. These are two components to the Golden Trio of monsters, and I am actually excited to compare them. Now to answer some questions that I know are going to come up.
(The opening scene to the 2004 Dawn of the Dead remake. There will be a few "runners" in this battle, so its relevant)
Why are you taking time off of Shaka/Arminius to do this?
I am not and will not take any time off Shaka/Arminius to write this matchup. My current plan is to do one category for this match-up per day, and afterwards focus entirely on my other projects. The sole reason that you, the readers, haven't seen me write much the last couple days is due to schoolwork, as I have been overloading myself on classes.
Why Vampires vs. Zombies?
Because I wanted to try something that many would deem controversial, and to do a fight that I have been reading about ever since I was a kid. As a child I was very much into these monster horror films, and I probably saw the entire Romero original trilogy, along with the Howling movies and a few other vampires.
Will you be writing a sim for this?
Yes I will, and maybe two alternate endings as well.
Will these "fighters" be in your back for blood tournament?
No they will not as this is the only matchup I plan on using these combatants. To reflect this all combatants will measured against each other on one page, meaning that I would do something like this:
Bite:
Combatant 1:
Combatant 2:
Combatant 3:
Claws/hands:
Ect,ect,ect
(Trailer to Steve Niles's 30 Days of Night)
Whoa, Whoa, Whoa Three Combatants?
(Trailer to the 1981 Howling)
That's right. You may have noticed my "Golden Trio " comment a couple of paragraphs ago, well that was foreshadowing for my third warrior announcement: the Werewolves. I was surprised that DW did not include them, as these monsters are nearly as popular as the other two, and at least as formidable. Between the three of them these monsters have dominated the cinema for countless years and have had their great moments (Max Brooks's books, George Romero's series, Steve Niles, Underworld, Howling ect) and not-so great moments (Zombie Strippers, Twilight, later movies of the Howling series).
I plan to incorporate a lot of videos when I am entering information in on all three of these monsters, and I am blessed that Youtube is absolutely full of movies involving the three.
What versions of Werewolves/Vampires/Zombies will you use?
I plan to stick to the show's version for the latter two as much as possible, and so Steve Niles's Vampires and the Romero-Brookish zombie will be used, with some variants. The Werewolf version is something that I am still debating on, but I am leaning towards the Underworld/Howling versions.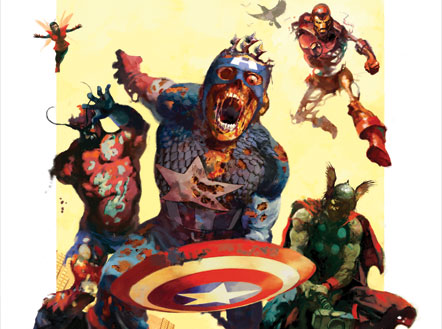 To Vampire and Werewolf fans: Be thankful I am not using the above zombies
What categories are you going to use to evaluate the trio?
For this match I am going to need a completely unique scoring system, as the normal rules do not apply to any of them. Zombies do not have "long range, mid range", they only possess their teeth and hands. For the evaluation, I will be operating under the assumption that all three were placed in a small residential area (roughly 10,000 people), and I will be measuring how each will fair against each other and the humans.
So without a further ado,
Bite
: This will measure the lethality, power, speed of each monster's primary weapons, their fangs/canines/teeth. The score will be measured out of a /100 points
(Tribute to Werewolves-Animal I Have Become)
Hands/Claws:
This category will compare the secondary weapons of the monster, based off of the same criteria as before. /50
Miscellaneous Body:
While the former two categories will be their most used weapons, the fighting applications of the rest of the body needs to be measured as well, such as kicks. /25
Actual Weapons:
This category includes both the ability to use them and how skilled the monster will be with them. :/75
Spread of Virus
: This is the most important category, as it determines the number of Werewolves, Vampires and Zombies that will come into play. Includes willingness of members to spread the virus, as well as any potential cures (which will lower the score) :/150
(These will all be posted again later, as I feel each of them is a great song for said respective monster)
Time which they can be active:
Here I will compare the three monsters based on how long they can be active, i.e. will they be able to fight in the daytime, when there isn't a full moon? :/50
Each of the following categories will measure a particular attribute of a monster.
Speed:
/50
Strength:
/50
Endurance
:/50
Intelligence
: /75 (plays a part in tactics)
Agility
: /50
Senses:
Measures the power of each monster's five senses, and will include the possible "6th" :/50
Durability:
aka how hard are they to kill: /75
Resistance to pain
: will effect how long they can stay in combat: /25
Vulnerability to other faction's viruses:
/25
How will they interact with other's of their own kind (infighting, factionalism) :
/50
Will they be able to coordinate with humans? :
This will measure how well the monster's will be able to coordinate with humans, if at all, and whether they can associate with them freely. /25
Motivation:
/25
Fighting Style/fighting skill:
/50
Tactics and effectiveness of tactics:
/50
Psychological Aspects:
/50
(Down with the Sickness- Zombie Tribute)
Persistence
: Measures how far they are willing to go to succeed in their objective, will they flee should things go wrong?/25
Weaknesses
: /-50
"Rare Variants"
: From faster then average zombies, to Vampire Elders to fully in control werewolves, the rare variants of each faction will be assessed here. :/75
Regeneration:
To what extent, if any, can a faction regenerate their wounds. :/50
A Perfect Mug shot..
** Please notify me of any other categories that you think I should add.
If all goes according to plan, this project will have one section done a day, then once that finished an edges page done, then a sim finished sometime prior to the 14th of September.